Here's how you can celebrate a green Diwali with your kids and other family members.
By Mansi Jain
You all must be gearing up to celebrate Diwali. The festival is a harbinger of fun, harmony, enthusiasm and prosperity, but in recent years, it's also been cause of worry, because of the negative impact on air pollution. As a responsible parent, you can encourage your kids to celebrate Green Diwali. Here's how you can do it!
1. DIY decorations
Unleash your latent creativity and make crafts at home. You can make beautiful Bandhanwar or torans to hang on your door, bells, etc, using some waste products. This will save a lot of money and usage of plastic.
2. Light a diya instead of fairy lights
Isn't it high time that we become environmentally conscious and save our resources? Well, yes! It's a wise decision to light earthen pots and diyas instead of decorating the house with fairy lights.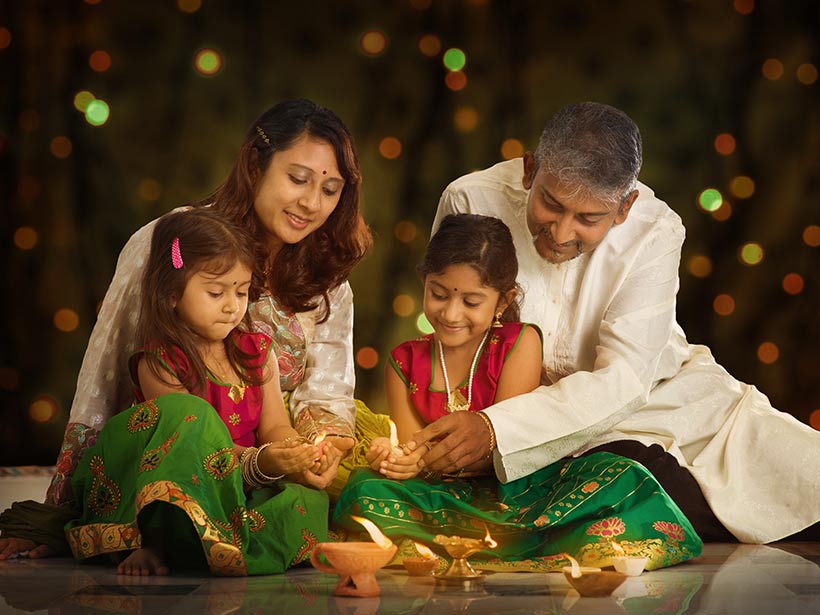 3. Restrict the use of incense sticks
People want their home to have an auspicious air during Diwali. Hence, they burn a lot of incense sticks ignoring the fact that the smoke emitting from them can lead to a lot of respiratory issues. So, use it wisely and when necessary.
Also Read| Diwali 2018: Escape Delhi pollution with these quick family getaways
4. Use flowers and herbal colours
Flowers add beauty to a home. One can use flowers to decorate the house and make a welcome Rangoli. You can also use herbal or organic colours which do not contain detergents and plastic. The adulterated colours can be harmful when they dissolve in water.
5. Arrange a get-together at home
We all want to meet our friends and relatives on Diwali. So, arrange a suitable get-together at home and play games. Plan some fun activity for kids and elders of the family. Sit and eat together to resolve differences and reunite on Diwali.
6. Stop burning crackers
Make your children aware that burning crackers is not a positive act. Besides it being a waste of money, the pollution from crackers reduces many years from our lifespan. It makes us prone to breathing problems, skin diseases, etc. We have all been live witness to the blanket of pollution in the atmosphere after Diwali.
7. Do some charity
It's a festival for all! Instead of wasting your money on unfair means, spread joy to others. Do some charity. Visit an old age home or an orphanage to spend with those who live there. You can also distribute sweets among them.
8. Stop immersing idols in holy water
Most of us immerse the idols of gods and goddesses in holy water. This doesn't just pollute the water, but harms marine life as well. It even leads to water pollution, which ultimately impacts our overall health.
9. Plant a tree
While many are contributing towards polluting the environment, you can become a responsible citizen. So, plant a tree! Ask others to do so as well. Make your child aware of the need to plant more trees. Nothing is better than a Green Diwali.
One must not wait for others to begin this green step. Make a start yourself and pave the path for others. Each one of us must take this green step to save our very own first home-the environment.
Source: Read Full Article