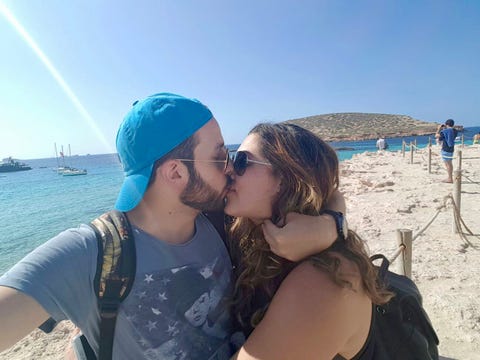 Life is rarely as exciting as it looks on reality TV. No one, after all, wants to watch hours of people filing paperwork. But for the couples who both star in and inspire TLC's runaway trashterpiece hit 90 Day Fiancé, which follows Americans attempting to wed foreigners, that's often what's happening behind the scenes to allow their relationships to thrive in the U.S.
Take, for example, Rachel Hechtman and Giuseppe Russo, both 29. They actually met in New York City, a funny part of their story Rachel often leads with when describing the origins of their relationship. "My best friend and I went on an amazing girls trip to Italy in June 2016," she says. "We planned everything to a T and Tindered (for tourist purposes only of course) our way down the Amalfi Coast, starting in Naples and ending in Capri."
Rachel and her friends met a man named Fabrizio on their second-to-last night in Capri. After some drunk—and admittedly unromantic—conversation at the club, Rachel and Fabrizio said goodbye, but continued exchanging "extremely PG texts."
Once she was back in America, Fabrizio suggested she meet up with his friend, Giuseppe, who's also from Capri. What followed was instant chemistry: They went to a club, kissed (even though Giuseppe promised Fabrizio he wouldn't hit on Rachel), and spent the next three weeks in an inseparable romance that ended with a declaration of love from both.
"I had quit my job a week before we met, so we had all the time in the world to get know each other, go on adventures, and ultimately fall in love," Rachel says. Except "he was here on a tourist visa and had to go back to Italy at the end of July."
Rather than part ways, Rachel put it all on the line and followed Giuseppe to Capri where she stayed at his parents' house, "eating homemade gnocchi and seeing how he grew up." Shortly after, they decided to make the romance official and got engaged.
And that's where their story gets complicated. "When we first applied for the K-1 visa, Obama was in office and things were very different," Rachel adds. She's referring to the so-called fiancé visa, which allows a foreigner to come to the U.S. for 90 days, at which point they must marry their partner or depart (that's where the TLC show gets its name). "Our lawyer said it would take at least nine months to be approved. We were bummed but tried to stay patient."
Despite the lawyer's estimate, it ended up taking just under four months for Giuseppe's case to be approved. Rachel and her lawyer attribute their luck to President Obama's administration and the contrast between its treatment of immigrants and that of President Trump. Though, anti-immigration rhetoric aside, it's hard to pin down exact changes in the K-1 visa process. "The Trump administration has, in many ways, continued the enforcement practices of the Obama administration," says Ingrid V. Eagly, a law professor at UCLA. "However, many of these practices have become more intensified and more severe under Trump."
Rachel and Giuseppe's story was compelling enough that she was actually hounded by 90 Day Fiancé producers for a few months before she ultimately turned them down. An avid fan of the show, Rachel sees a lot of the same trials and tribulations they went through when she watches.
"90DF actually gets a lot of the stress and drama right," she says. "One thing they get wrong is the focus on the green card. There is so much more to this process: being able to get a job, being able to leave the country once you're here, being able to open a bank account. Those kinds of things aren't really mentioned or shown."
Rachel also thinks 90 Day Fiancé heavily plays into the stereotype of foreigners dying to come to the U.S. "Giuseppe begged me to move to Australia, where he used to live. It was me who proposed to him. It was me who asked him to move into my small apartment with two other roommates. It was me who initiated this process… not him."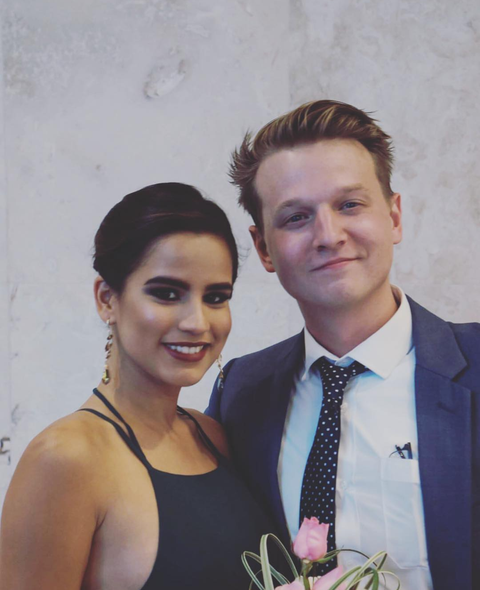 Angela Banzy and Shane Pac.

Courtesy of Shane Pac and Angela Banzy
Shane Pac and Angela Banzy also met in America—at a small house party in Boston—when they were both 19.
"I met Angela at a mutual friend's birthday party in 2009" Shane, now 28, says. "I was the only American at the party of all international students from all over the world. The moment I saw her, I was instantly attracted to her and made an effort to start a conversation with her. Angela mentioned that she was from Venezuela, so I asked her to hold on for one second, and I grabbed a biography on Simon Bolivar out of my backpack that I had just checked out of the library earlier that day. Bolivar is like the George Washington of South America. The next day she reached out to me on Facebook, and four years later we got married."
Unlike Giuseppe, Angela, 28, already had a student visa and was able to stay in the United States legally—but only for a little while. The process to keep Angela in this country post-marriage was every bit as difficult as one could imagine.
"The process between the time you get married, the time you submit your paperwork, and the time you actually receive your work authorization takes months," Angela says. "You need money, affidavits, and all sorts of proof to show the marriage is genuine. This means that the foreigner can't work for three months and the household fully relies on the other person."
"We actually had an extremely important document sent back to us because I forgot to initial one small section," Shane adds. "Angela will still be using that against me 50 years from now."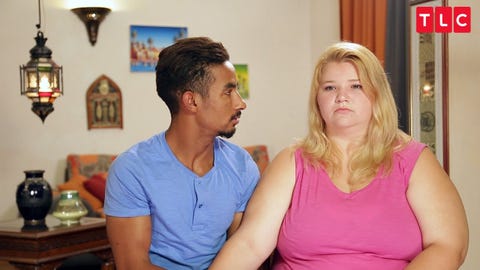 Azan and Nicole on TLC's '90 Day Fiancé.'

TLC
Shane and Angela are regular 90 Day Fiancé viewers and even saw an aspect of their struggle in Nicole and Azan, who had to cancel their wedding because they were missing a vital document that would take weeks to obtain. Angela agrees that it's typically the little details you don't see much of on 90DF, particularly the questions asked during the government interview to determine whether couples are getting married for, you know, love love, or playing the system.
"They asked us how we met, when, and where we got married, what we had for dinner the night before, if we ate together, at what time we each got back from work, where exactly we both work and what we do for work, our parents' and siblings' names, favorite foods, and our toothbrush colors," she explains. "Our answers had to match."
In a similar vein, Giuseppe recalls not being able to remember a few minor details about household finances during his interview, a side effect of nerves.
Angela and Giuseppe now have their green cards, both work full-time—he's a waiter and she's an accountant—and are happy being rooted in American soil. For couples looking to pursue the K-1 visa, Angela warns that preparation for the visa interview and 90 days leading up to the green card can be hell on some people.
"You don't have the normal relationship of the average American couple," she notes. "The average couple doesn't have to face these kinds of issues until after some years into their marriage—when they are buying a house, or having other kinds of money issues."
As in nearly everything, though, there's a potential upside. Angela believes that going through this arduous ordeal made her and Shane more mature and function better as a team, giving them a crash course in how to communicate and compromise.
"We learned early on," she says, "that we work well together as a unit and can pretty much do everything we want together."
Source: Read Full Article