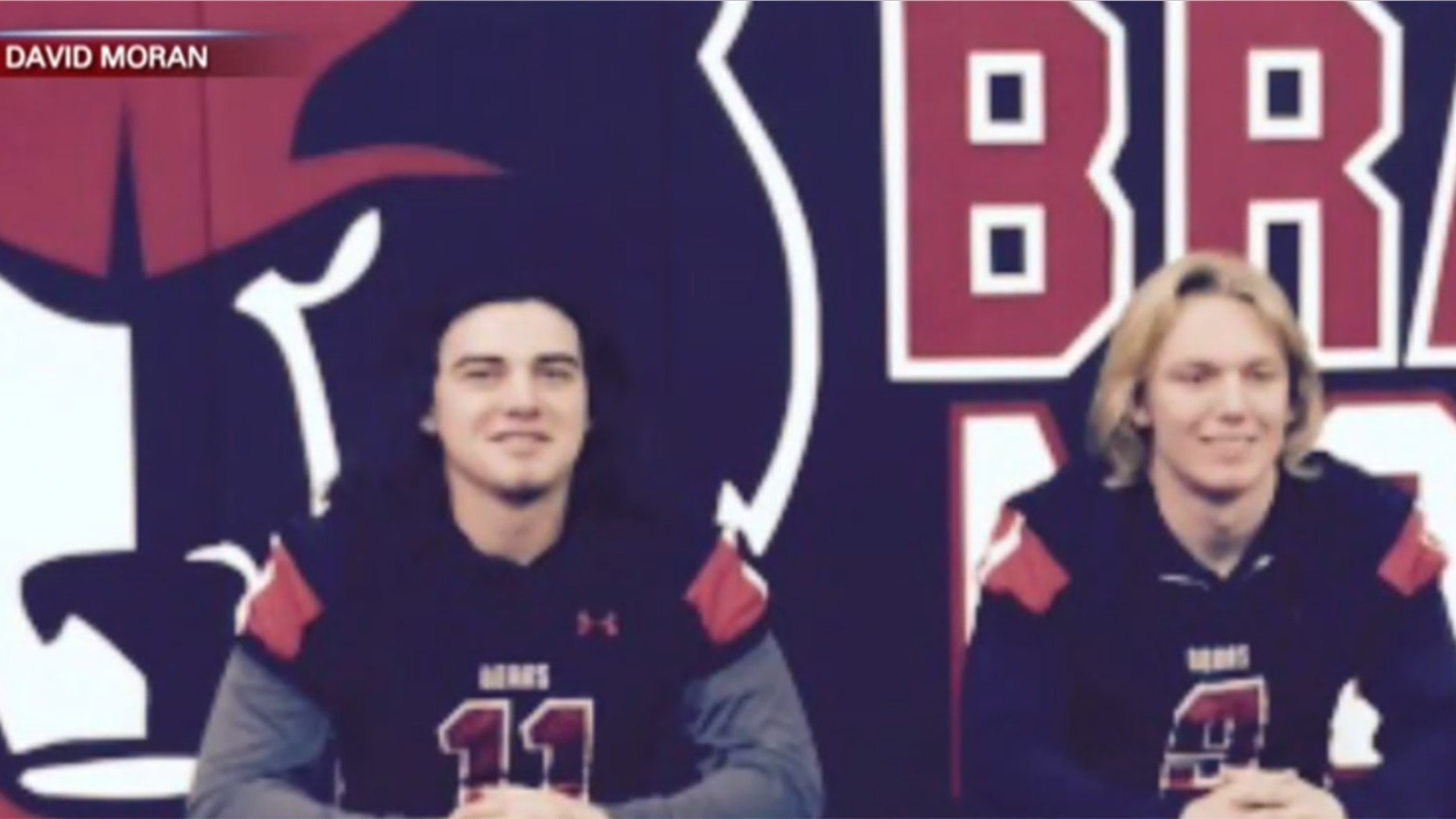 Jake Morales, left, and Gunner Bundrick, right, died in "accidental overdoses" earlier this month after they ingested pills laced with fentanyl.
(Fox 10 Phoenix)
The heartbroken aunt of an Arizona teen who police said died of an accidental overdose after he and his friend ingested pills laced with fentanyl is speaking out about the dangers of "experimenting" with drugs.
Gunner Bundrick and Jake Morales, both 19, were found unresponsive on Nov. 3 by Bundrick's mother — a medical examiner later ruled the teens had died due to a combination of illicit drugs, fentanyl and 4-ANPP.
In a Nov. 20 Facebook post, Brandi Bundrick Nishnick, Bundrick's aunt, said she wanted to clear up any misconceptions about her nephew while also telling his story. She encouraged others to share her post in the hopes of saving lives.
"Gunner went out with friends on Friday night," she wrote, in part. "They came back to my brothers [sic] house late and stayed up eating pizza and playing video games – like most 19 year old boys do. At some point during the evening, Gunner, and his friend, took a pill stamped Percocet. The very popular and easily accessible pain killer."
MOM OF 3 EXPECTING TWINS NEEDS BONE MARROW DONOR TO SAVE LIFE
Nishnick said her nephew had no known history of drug use and was never a "problem child." She described him as a star athlete and well-known member of the community.
"We don't know why he decided to take 'a pill' that night," she wrote in the post that has been shared more than 824,000 times and garnered nearly 400,000 reactions. "The only thing we can assume is that the curiosity of knowing that the 'high' is like came into play? Again, we can only assume. His friend also took a pill. Both boys died what we think was pretty immediately. Both went to sleep and never woke up."
Nishnick said attempts to revive the boys by her sister-in-law and paramedics proved futile, as they had been dead for hours.
"The pills Gunner and his friend took were at the very least laced with fentanyl," she wrote, which the medical examiner's report confirmed. "We are still waiting on reports but there is a good chance it was more than 50 percent fentanyl. That's enough poison to kill 10 adult males."
UK HOSPITAL ON ALERT AFTER DRUG-RESISTANT SUPERBUG DETECTED ON WARDS
Fentanyl is a potent, synthetic opioid that's 50 to 100 times stronger than morphine. It's approved to treat severe pain, typically in advanced cancer patients, but according to the Centers for Disease Control and Prevention (CDC), most recent cases of fentanyl-related harm, overdose and death are linked to illegally-made versions of the drug, and sold through illegal vendors. It is often mixed with heroin or cocaine with or without the user's knowledge.
"One bad choice, one stupid minor mistake was all it took," she wrote. "Gunner never had a chance. It's very natural to be curious and want to 'experiment' with things at Gunner's age. Remember when we were in [high school] and kids considered experimenting with cigarettes?? It's a different time now. Kids are experimenting with pills because they think they're safe. They've seen them in their parents medicine cabinets from their moms car accident last year or from when their dad threw out his back. They seem harmless."
"These aren't the pills in your parents medicine cabinet," she warned. "They are made in someone's garage who is trying to make a buck…a buck at the expense of our children's lives. THERE CAN BE NO EXPERIMENTING. None. It's truly a matter of life or death. You can't see fentanyl. You can't smell fentanyl."
Nishnick ended her post by urging parents to show their teen children her nephew's photo and to tell them his story.
Source: Read Full Article