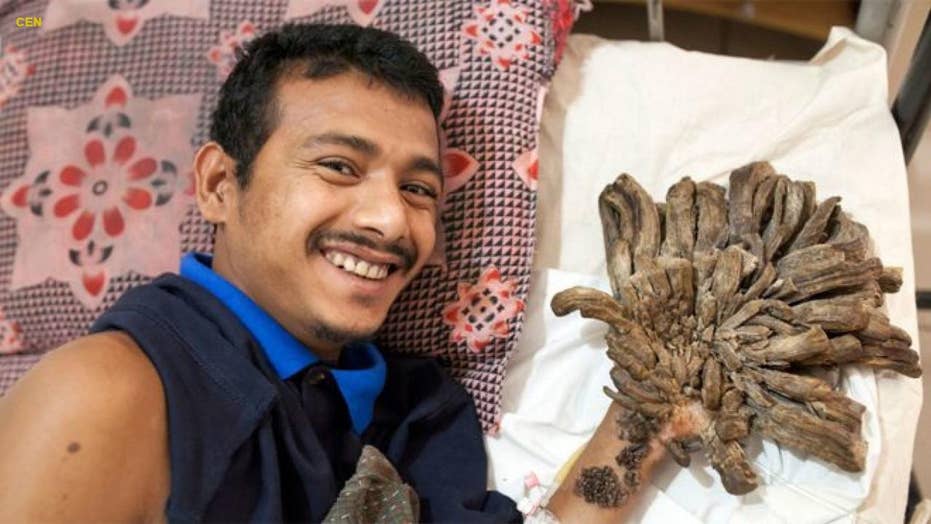 Bangladeshi father dubbed the tree man is reportedly back in the hospital with more growths
Abul Bajandar previously made headlines after he had 11 pounds of growths shaved from his hands. After dozens of operations, the father from Bangladeshi is now reportedly back in the hospital with more growths.
A Bangladeshi father dubbed the "Tree Man" because of bark-like growths warping his hands and fingers has reportedly been begging doctors to amputate his limbs to relieve his pain.
Abul Banjandar, 28, has had over 20 operations to remove the warts, but a recent relapse allegedly caused them to come back worse than before.
"I cannot bear the pain anymore, I can't sleep at night," Banjadar, a father of one, reportedly told Agence France Presse (AFP). "I asked the doctors to cut off my hands so I can at least get some relief."
The condition is incurable, but surgical treatment is an option for some patients. Banjadar has already had 11 pounds worth of growths removed from his hands in his lifetime. At its worst, Banjadar is unable to eat, drink, work or hold his own child.
In January, Banjadar reportedly expressed regret at skipping hospital appointments that led to his relapse.
"I made a mistake by leaving the hospital," Bajandar reportedly said, according to The Sun. "I sought alternative treatment but could not find any. I now understand I should have stayed and continued the treatment."
Banjadar is now allegedly seeking treatment abroad but is lacking funding.
According to The Sun, his case will reportedly be discussed by Dhaka Medical College Hospital's board, which treated a young girl with the same condition in 2017.
Source: Read Full Article